Posted by:
Anne Haight
in
Uncategorized
If anyone ever needed yet another reason not to get addicted to hardcore drugs, I give you John Evander Couey, et al. Couey is the man recently arrested for abducting, raping, and murdering Jessica Lunsford (age 9). When I first saw pictures of Couey, I made an assumption about his age, as I'm sure you did/will upon seeing similar pictures in the news.
But I ask you to consider the fact that John Couey is 46 years old.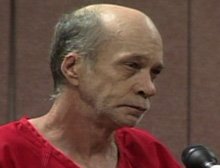 John Evander Couey
The house near Jessica's where Couey had often been visiting (apparently his sister's home or somesuch), had four other residents who were also arrested and charged. Below are pictures of three of them, and their ages: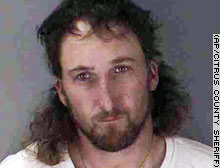 Matthew Dittrich, 31, arrested for obstruction of justice.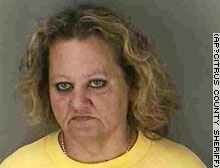 Dorothy Marie Dixon, 47, arrested for obstruction of justice.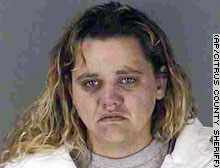 Madie Dixon Secord, 27, arrested for obstruction of justice.
I am informed by a friend of mine that all of these people have the characteristic look of meth abusers. I have to say, Madie in particular looks really bad. It's hard to tell if she's been beat up regularly, or if meth just does that to you after a while.
Also notice the profoundly sad expression on her face. Whether that's because of their drug addiction, or her guilt at what Couey did, I don't know. Perhaps it doesn't matter.
Photo Credit: AP/Citrus County Sheriff