Posted by:
Anne Haight
in
Uncategorized
Generally speaking, anything that annoys animal rights activists, especially PETA, is cool. The following item falls into that category:

TRENTON, N.J. — Animal rights activists are disgusted by a new candy from Kraft Foods Inc. (KFT) that's shaped like critters run over by cars — complete with tire treads.

The fruity-flavored Trolli Road Kill Gummi Candy — in shapes of partly flattened snakes, chickens and squirrels — fosters cruelty toward animals, according to the New Jersey Society for the Prevention of Cruelty to Animals.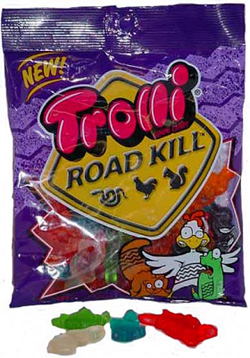 I happen to think this is utterly hilarious. Partially flattened gummi animals with tread marks on them? That's effing brilliant! Where was this stuff when I was a kid?
Remember bubble gum cigarettes? I used to chew those. I don't smoke. The idea that candies lead kids into the adult vices they copy is fundamentally dumb. I used to eat Pixie Stix, too, and I don't snort coke. Big League Chew was awesome. Did it lead me to start dipping? No. One might as well conclude that eating orange Lifesavers would lead someone to put a Cesium isotope emitter disk (which looks remarkably like an orange lifesaver) in their mouths.
Roadkill happens. Everybody's seen it. It's accidental. Nobody goes out of their way to run over animals on the road. Also, cartoons typically make fun of incidents like being run over by vehicles, leaving part of the cartoon animal flattened with tire marks. Then he gets up and in the next scene he's fine. Kids understand this is fantasy. You're a liar if you never laughed at the Coyote being run down by one of his own ACME products, or a random truck in a tunnel, or a train.
People really need to lighten up. But annoying PETA is so much fun.