Posted by:
Anne Haight
in
Uncategorized
RIAA has, for a while now, been suing people who illegally download various media like songs and movies. They have managed to make it illegal for someone to copy a DVD, even if the copy is for their own use. The concept of "personal use" with CDs, however, has enjoyed (and rightly so) protection from such prosecution. Until now:
In legal documents in its federal case against Jeffrey Howell, a Scottsdale, Ariz., man who kept a collection of about 2,000 music recordings on his personal computer, the industry maintains that it is illegal for someone who has legally purchased a CD to transfer that music into his computer.

The industry's lawyer in the case, Ira Schwartz, argues in a brief filed earlier this month that the MP3 files Howell made on his computer from legally bought CDs are "unauthorized copies" of copyrighted recordings.
Seriously? Seriously?
Jeffrey Howell, bless his soul, has decided he isn't going to just write the RIAA a check to make this go away. He's fighting back in court. (FYI, for simplicity's sake, I will use the term "MP3" to refer generically to any digital music media format. I know that MP3 is a specific format and that there are others.)
This is completely fucking ridiculous. My husband, Kyle, has an MP3 player. If the RIAA has its way, he could go to jail for ripping an MP3 from a music CD that we legally own and which he intends to keep for himself and only use himself. He would have to buy another copy of the song in MP3 format (presumably from Amazon's MP3 download service, or something like Napster). We're not talking about sharing the copy with a friend, or playing it on a podcast, or some other stupid shit. RIAA wants to make personal use illegal.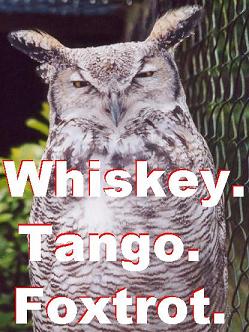 Is RIAA just determined to hasten its own demise? Of course, some people are just unclear on the entire concept of private property and copyright:
In a Los Angeles Times poll, 69 percent of teenagers surveyed said they thought it was legal to copy a CD they own and give it to a friend.
Those people are just retards. Giving someone a copy of your CD is illegal. That's simple theft, because the other person is getting a free copy of something that's copyrighted. The result is 2 people who have their own copies and only 1 was paid for.
But on the issue of RIAA's general obsolescence, the WaPo article makes a good point:
The RIAA's legal crusade against its customers is a classic example of an old media company clinging to a business model that has collapsed. Four years of a failed strategy has only "created a whole market of people who specifically look to buy independent goods so as not to deal with the big record companies," [New York lawyer Ray] Beckerman says. "Every problem they're trying to solve is worse now than when they started."
Yes. I have, in fact, started to resort to buying old, used CDs and shopping at places like CDBaby.com (which deals in music labels and artists that are not beholden to RIAA, and so buying their stuff doesn't enrich RIAA and the CDs don't contain all that digital media protection bullshit). CD Baby also has the marvelous features of being able to search for music by type, by mood, and will show you similar music based on a selection.
CD "protection" is nothing more than an annoyance for me. I have an 11-year-old CD player on my home stereo, and a 14-year-old one in my car. Neither device will play some of the newest CDs I own, because the CD's encryption doesn't recognize them as "approved devices" (which really means: we think you're trying to play this CD on your computer and we won't allow that), and that's just stupid. I have a legal CD and a legal device. I should be able to listen to it. For that matter, my computer is also a legal device. I used to listen to my music CDs on my computer. For the most part, I can't anymore, if the CD is relatively new.
It may come as a surprise to some people that I have never, in my entire life, illegally downloaded a song or movie onto my computer. I do not possess any pirated music. In fact, I've never even ripped a CD that I own onto my computer (although that may change soon now that I've figured out how to get my PSP to play MP3s). Even if I want to buy MP3s already made from someplace like Amazon, not everything is available in MP3 format. Many artists' recording labels have not authorized MP3 releases of their songs. Artists like Madonna, Michael Jackson, Journey, Hall & Oates — that stuff isn't available even if you want to buy an MP3 of it.
So how exactly are we supposed to get a "legal" MP3 of something that the label won't release? The obvious answer is that we don't. The RIAA is trying to hold onto its old business model, in defiance of obvious trends to the contrary and the massive market demand for MP3 music. People aren't going to carry tons of CDs around with them anymore. It's not necessary. And if we can't "legally" obtain an MP3 of "Thriller", we're going to "illegally" rip it from the CD we legally own.
Count on it.