Posted by:
Anne Haight
in
Uncategorized
No, I'm not talking about the electronic kind that annoys people. I'm talking about the kind you eat. I just finished picking these at work: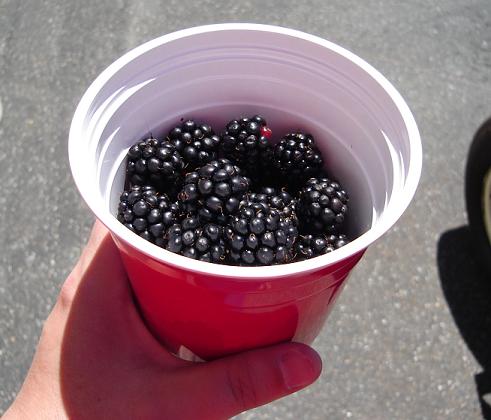 Wild summer blackberries right off the vine. Whether accidentally or by design, much of the property fence on the side facing the highway is lined with blackberry bushes. They serve as a great deterrent to trespassers, as anyone who has ever gotten tangled up in one can tell you. They also grow fast and aggressively, and require no care beyond natural sun and rainfall.
I started noticing that they are fruiting, and eagerly waited until there were enough ripe ones to pick. They're sweet and delicious, and a few are now staining my clothes (the whole thing reminds me of this story from my childhood). There are so many more, fat, juicy ones beyond the fence that I can't reach. Damn. Anyway, I will wash these and probably have with my lunch today. Maybe some cream to go with them would be warranted.
And yes, the blackberry vines did have their revenge on me for taking them. I have scratches up and down my arms now.