Posted by:
Anne Haight
in
Uncategorized
Usually I'm not impressed by France, which includes not being impressed by their modern art. However, I'm making an exception this year with the advent of the Loire Estuary 2007 project. Basically, it's a 40-mile stretch of river in France that is the territory of a number of outdoor, freestanding (or floating) works of art. The entry that has attracted the most attention is Dutch artist Florentijn Hofman's "Badeend", which translates to "Rubber Duck":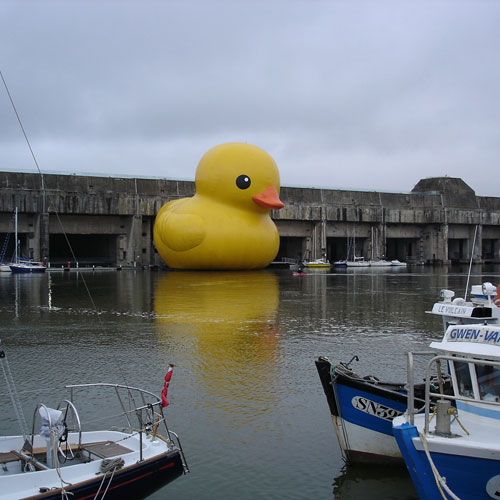 I submit to you that this is made of 100% Awesome™. I giggle uncontrollably every time I look at a picture of it, although I'm not sure why. Hofman has this to say about his work:
A yellow spot on the horizon slowly approaches the coast. People have gatherd and watch in amazement as a giant yellow Rubber Duck approaches. The spectators are greeted by the duck, which slowly nods its head. The Rubber Duck knows no frontiers, it doesn't discriminate people and doesn't have a political connotation. The friendly, floating Rubber Duck has healing properties: it can relief mondial tensions as well as define them. The rubber duck is soft, friendly and suitable for all ages!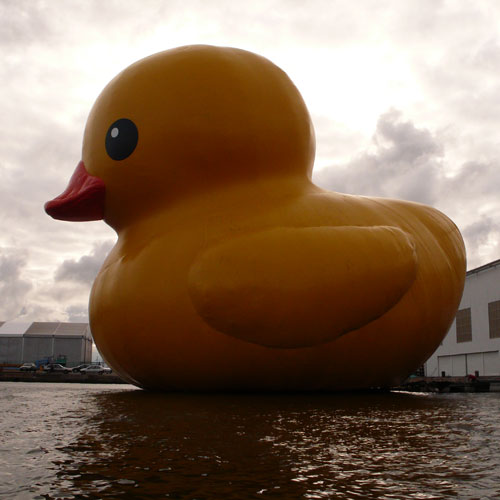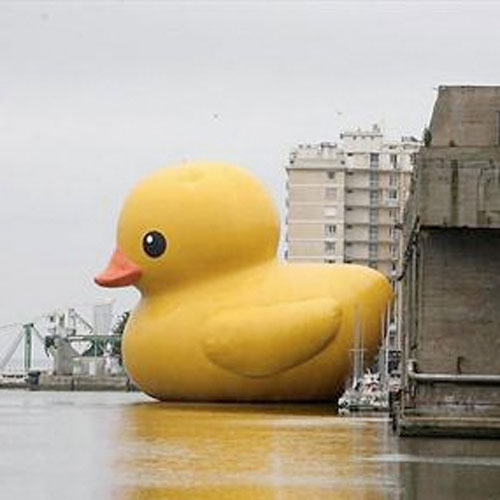 The rubber ducky is made of rubber-coated PVC, with a pontoon and a generator to keep it inflated. It is free-floating, and has prompted a "duck hunt" up and down the Loire river among visitors eager to see the duck. It might be a good thing that this particular ducky does not have a squeaker. It would break windows from Tours to Lyon.
In all fairness, the artist is Dutch, so I suppose I'm still not impressed by France.
All images are © Florentijn Hofman