Posted by:
Anne Haight
in
Uncategorized
My good pal Low-Tech Redneck on Ricecop today links a fascinating little item from North Carolina. Hosted on a blog called Jeff Kay's West Virginia Surf Report, it purports to be an exchange between a resident and that neighborhood's Homeowners Association. It concerns the presence of a gargoyle lawn ornament on the resident's property:
We are a congregate group of good Christian and God fearing people. The display you have set up on the outer section of your lot has us a bit concerned as the statue appears to be a type of Pagan worshipping symbol, unlike the other lawn decorations in our neighborhood. Shirley Whitley, a neighbor of yours says that this is a Satanic being and that you may be involved in the Occult. We have all noticed strange goings on around the neighborhood. There are flashing lights in the sky and numerous dead animals in the road. We understand that you are a homeowner, but if you will read your declaration of restrictions, obscene or vulgar displays on your property are not allowed. We insist that you remove this questionable display at once. Our children are not to be influenced by Devil worship and deviant behavior.
Jeff Kay's West Virginia Surf Report displays the following picture, which I presume is the pagan worship symbol in question: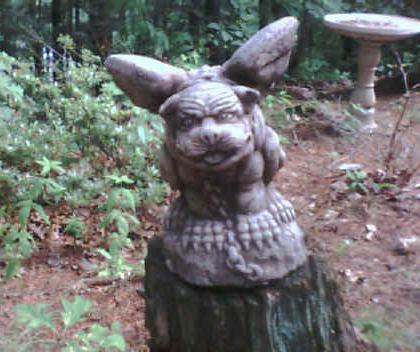 To quote Reverend Lovejoy from The Simpsons, "And it goes on like this." Now I don't know whether this is true or not. Naturally one has to take a certain amount of humor on the internet with a grain of salt. But a number of the details do appear to be valid.
I did find a listing for someone named Ardna Rash in Boone, NC with a birthdate in 1958, which would make her about the right age for this kind of nosiness. Presumably Rash is her maiden (or formerly-married) name.
There is an airport in Boone, and as the resident indicates in his response, it is a very, very small one. It is not "Boone International Airport" as the HOA claims. It is, in fact, "Boone Airport, Inc.", a privately owned airstrip. As the Watauga County website states:
The airport features a paved strip 40 feet wide and 2,650 feet long. The elevation is 3,120'. Advance notice is not required for use of the airport. Landing fees are modest $5.00 for single engine aircraft, $12.00 for twin-engine aircraft and overnight parking fees on the grass are $5.00.
That ain't no international airport. That's somebody's backyard. I'm with the resident in expressing disdain for what anyone landing at that airstrip thinks of his Christmas lights. Personally I find a big Christmas light display in a rural area to be very cool and in the spirit of the season.
At any rate, my research on the "airport" mentioned in the letters is intended to show that the HOA representative in question, a certain Ardna Tyne, is a busybody who takes her role in the HOA much too seriously. The neighborhood is probably an otherwise sleepy place where no drama occurs with any regularity.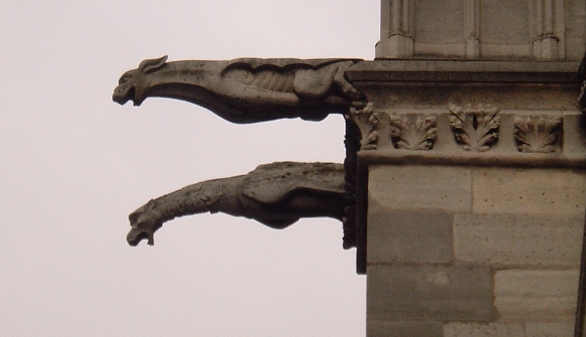 Gargoyle waterspouts on Notre Dame cathedral
Regarding the issue of a gargoyle as a Satanic symbol, this is just another example of how far removed from anything like "education" and "historical context" a lot of religious fanatics are. Gargoyles are prominent architectural features on a number of famous Catholic cathedrals throughout the world, including Notre Dame and the Church of St. Mary the Virgin in Oxford, England.
The word "gargoyle" derives from the Old French gargouille, which means "throat" (also the derivation of the word "gargle"). There is a legend about a dragon named La Gargouille that lived in the river Seine, who was tamed by a saint. The dragon's firebreathing head and throat would not decay, so it was mounted on the town wall and thus became the model for future such "decorations".
In architecture, gargoyles typically were designed as waterspouts for drainage on buildings, much the way gutters and downspouts work in modern construction. The term "gargoyle", therefore, often refers specifically to this plumbing feature. The modern term for such constructs is "grotesques" if they serve only a decorative purpose.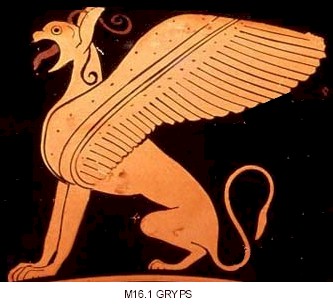 Greek griffin
Gargoyles as fantastic monsters or animal-human hybrids, however, go back much farther than Christianity. Greek architecture often features griffins, which were the guardians of treasures and riches.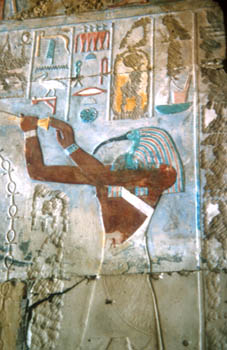 Ibis-headed Egyptian god Thoth
In Ancient Egypt, the gods themselves were depicted as animal-human hybrids. Thoth had the head of an ibis bird, Anubis the head of a jackal, Ra the head of a falcon, and so on. The corresponding animals were considered sacred aspects of the gods.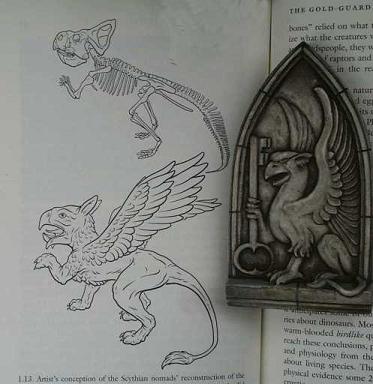 Of course, the "origin" of gargoyles is not known for certain, although one theory is that they were inspired by prehistoric fossils of dinosaurs and the like. It may be that it is simply one evolution of an ancient concept of monstrous creatures that serve as guardians of special places.
It is alleged in some circles that gargoyles do have a Pagan origin, or at least a Pagan shared ancestry. If so, it would make sense that the Church would absorb the symbol and incorporate it into Christian iconography in order to facilitate the conversion of Pagans to Christianity.
I suppose that someone sufficiently righteous could refer back to the symbol's origin as an "evil" symbol, but that would be analogous to declaring a Christmas tree evil (it, too, is originally a heathen symbol that was incorporated into the Christian holiday).
As a native Tennessean, I always read about narrow-minded folks like this HOA woman with a desire to pimp-slap them for making Southerners look bad and perpetuating the stereotype of ignorant, nosy, Satan-obsessed, inbred freaks.
I'll be curious to see how this plays out, and whether the HOA understands that this incident has the attention of people on the internet and therefore shuts her trap. I'm kind of doubting it, since people like this bask in the attention and never think they are in the wrong.