Posted by:
Anne Haight
in
Uncategorized
Capitalism is a marvelous thing. Sometimes, however, market forces give rise to some truly peculiar products. Kyle and I encountered the following two Raid pesticide products at our local grocery store this past week. I can't help but wonder what twisted mutation focus group studies led to the conclusion that these were a good idea.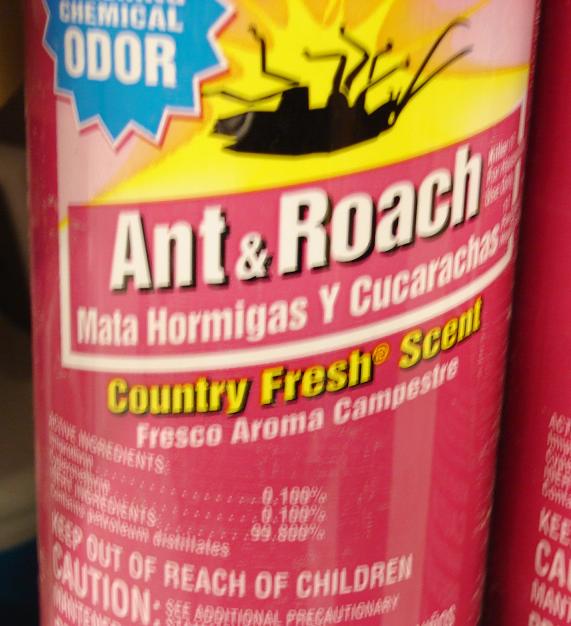 Example No. 1: Raid Ant & Roach killer…in a Country Fresh scent. Keep in mind this is a product that has God's own toxicity label on it and includes a caution not to inhale or have prolonged exposure to the fumes. Usually this isn't an issue because pesticide spray smells, well, nasty. Considering the large numbers of people on the planet who have proven to be absent the day God handed out brains, putting a pleasant scent in this product is probably not a good idea.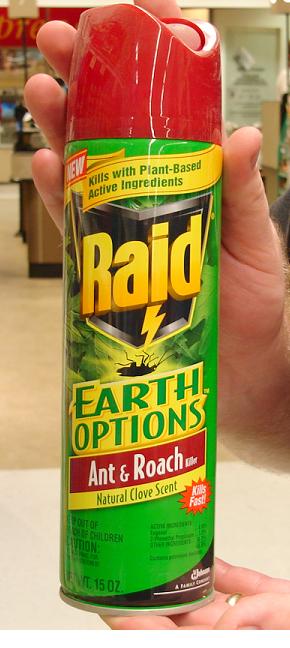 Example No. 2: Raid Earth Options Ant & Roach killer…in a natural clove scent. The label also includes the banner, "Kills With Plant-Based Active Ingredients".
Now this is taking the whole tree-hugging, earth-friendly thing too far. We're still talking about insect murdering, but it's plant-based insect murder. With a natural clove scent! It's natural so it must be good! Oh wait, it still has that "Danger: Poison" warning on it. But it's plant-based and has a natural clove scent!
What *&%$! whackjob decided that it would be easier to sell ant and roach poison to the hippie crowd if they made it clove-scented and slapped the words "earth", "plant" and "natural" on it?
A genius whackjob, probably, because I bet it will work.