Posted by:
Anne Haight
in
Uncategorized
A friend of mine directed my attention to the Photo Essay on Fox News about Good Friday celebrations around the world. One of the pictures in the series struck us both as…odd.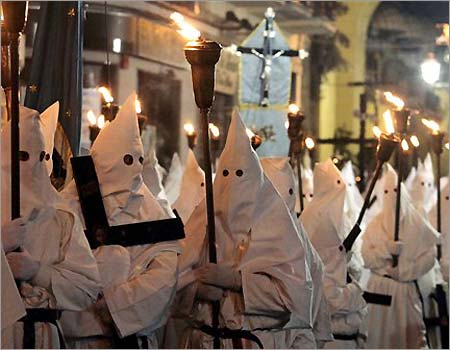 Hooded faithful carry crosses and torches during the Good Friday procession in Sorrento, Italy.
The "hooded faithful"? I've never heard them called that before.
Before you inundate me (or Fox News) with email, I should point out that this is a legitimate holy tradition in Italy called the Campania Easter, and has nothing to do with the Ku Klux Klan.
Along the coast, Sorrento stands out for the perfect organization of two processions on Good Friday, the white and the black ones. The first, with white hooded men, organized by Santa Monica Confraternity, takes place on the night between Thursday and Friday. The procession walks in front of the statue of the Our Lady searching her Son.
Photo credit: AP