Posted by:
Anne Haight
in
Uncategorized
This story about a journalist killed by American troops in Iraq prompts me to rise to defend the Americans, largely because of the spin I can already see developing on this incident in the press:
"Mazen Dana, 41, was shot and killed by U.S. soldiers Sunday while videotaping near a U.S.-run prison on the outskirts of Baghdad. The U.S. Army said its soldiers mistook his camera for a rocket-propelled grenade launcher.

The film Dana shot showed a tank driving toward him. Six shots were heard, and the camera appeared to tilt forward and drop to the ground after the first shot."
Naturally there are accusations flying back and forth that the Americans knew the journalists were in the area, and knew the guy was a cameraman and shot him anyway. Why? Have no idea. Because they're evil Americans I guess.
But I ask you to consider their point of view. If you're in a war zone, and you see a guy with what looks like an RPG get out of a car suddenly and point it at you, what are you going to think? That you're being filmed? Of course not. You're going to think you're about to be blown up by some lunatic Iraqi militant.
Consider how news cameras are held, and compare that to how an RPG is held. The article says that the camera was filming the shooters at the time, so the lens was pointed right at them. These pictures below give you an idea how remarkably similar these two acts look at a glance: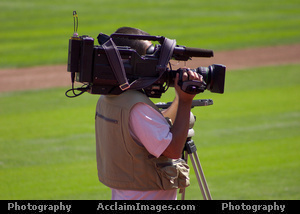 Camera Journalist, side view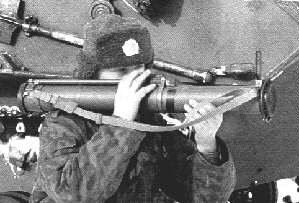 RPG, side view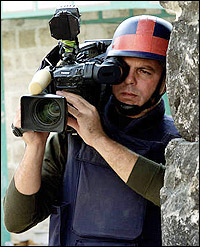 Mazen Dana With His Camera (photo credit: Reuters)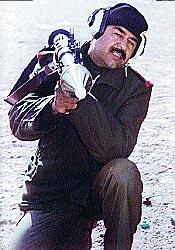 RPG, front View
Frankly, the accusation that American troops would deliberately kill journalists is just ludicrous and doesn't deserve any discussion.
War is dangerous. Journalists have always known that going into war zones to do their jobs might result in them getting killed, perhaps accidentally such as in this case. This is a known risk, and it is not immediately obvious to me that the Americans acted negligently or with malice.