Posted by:
Anne Haight
in
Uncategorized
Yes, ladies and gentlemen, we have officially entered the Battletech age. I give you the Rescue Dragon:
This is the T-52 Enryu rescue robot prototype. It is made by Tmsuk Co., Ltd. of Japan with the idea of being a trailblazer in situations where there is a lot of heavy debris between life and death for people trapped in a disaster or accident. It can lift and move trees, rubble, steel, etc. with a speed and precision that bulldozers cannot manage.
It is powered by a 3-stroke direct injection diesel engine, with a maximum speed of about 1.8 mph. Each arm is capable of lifting up to 1,100 lbs. It has a maximum handspan of 33 ft. when the arms are fully stretched out. It carries 7 on board cameras.
The Enryu is not an autonomous machine — it is controlled remotely by a human operator, in much the way other kinds of heavy equipment are controlled. Tmsuk hopes to have a commercial production of this robot by the end of 2004.
You can see some movies of the robot in action here. One clip is a fairly impressive display of deft skill on the part of the remote operator, who successfully places a large chunk of steel on the ground balanced on its end.
One person remarked this robot looks a lot like something out of Patlabor. Me, the first thing I thought was, "OMG it's the ED-209!"
People have a certain paranoia that the technologies of the future are going to focus on the military, weaponized applications of things like robotics. But I've always believed that such technologies are driven initially by manufacturing and emergency services.
In the case of robots, this has proven correct. Robots have been in use in manufacturing for many years now, doing highly dangerous and repetitive tasks. Robots have many applications in clean rooms, hazardous environments, and going places that humans can't.

Robot welding in an automobile factory.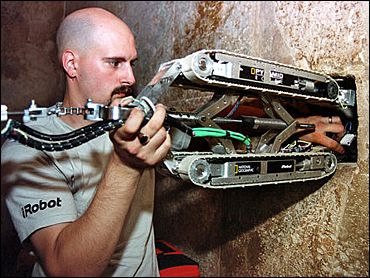 The Pyramid Rover, a robot designed by National Geographic, has been used to crawl up into small shafts inside the Great Pyramid in Egypt to see where those shafts go and what, if anything, was on the other end.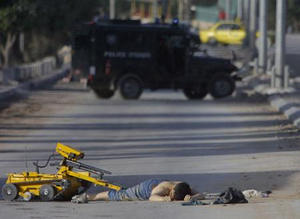 Robots enable the police and military to explore potentially dangerous situations in combat zones, terrorism incidents, and situations where approaching a person may be deadly (homicide bombers).

The ultimate exploratory robot: the Mars Spirit Rover, whose mobile work on Mars has already yielded a number of exciting scientific discoveries about the Red Planet.