Posted by:
Anne Haight
in
Uncategorized
I keep telling you these people are repulsive and barbaric. Here's another stage in their "giving kids nightmares" campaign.
Starting next month, Norfolk-based People for the Ethical Treatment of Animals plans to hand out "Buckets of Blood" to children outside KFC restaurants and at schools near the restaurants. The buckets are part of PETA's campaign against what it says are farming and slaughter abuses by KFC's suppliers.
The 5-inch-tall, red-and-white striped containers mimic KFC's buckets. But instead of fried chicken, each is filled with items including a bag of fake blood and bones, a bloodied plastic chicken and a cardboard caricature of a blood-spattered Colonel Sanders holding a butcher knife toward a terrified-looking chicken.
Labels on the bucket proclaim, "Shhh! The 'secret recipe' in this bucket of body parts is … cruelty" and "The Colonel's secret recipe: live scalding, painful debeaking, crippled chickens."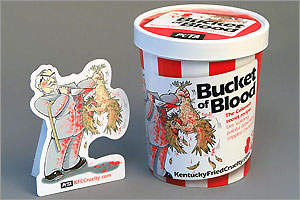 It is worth noting, however, that 9-11 has changed this country in more than just obvious ways. KFC's comments included:
"We don't comment on the corporate terrorist activities of PETA. They are corporate terrorists and just like the United States government, we will not negotiate with corporate terrorists."
Excellent attitude. Unfortunately, this same KFC spokesperson goes on to say this:
"PETA has totally crossed the line of free speech and acceptable behavior"
Gotta disagree with you on the free speech thing. KFC might, however, be able to make a case for libel and defamation. It is certainly true that PETA's actions are way beyond the bounds of acceptable from a cultural perspective.
This is cowardly, despicable behavior; traumatizing children when they are too young to understand or defend themselves intelligently. It cements a gut reaction of fear and horror before the child is able to process the truth or falsity of the accusation, and before the child has an established ego and strong self-identity.
The motive for this is simple. PETA knows that they cannot persuade adult, rational human beings. So they go straight for the babies. Get 'em while they're young. Feed them lies and distortions, seasoned liberally with rabid hatred and good old fashioned mean-spiritedness. Bake at high pressure for 10 years. Serves: everyone within hearing range.