Posted by:
Anne Haight
in
Uncategorized
I'm a little surprised that in this day and age, there are still people who hang out at playhouses and theaters in order to rough up people wearing fur. PETA has nothing better to do, however, which is not a surprise. That they would stoop to such low tactics as these is also not surprising: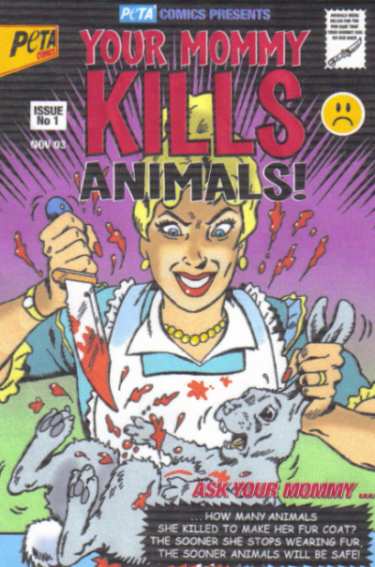 Animal rights advocates will single out small children at performances of "The Nutcracker" in the next few weeks by handing out fliers saying "Your Mommy Kills Animals" to youngsters whose mothers are wearing fur.

The fliers include a color drawing of a woman plunging a large bloody knife into the belly of a terrified rabbit. The fliers urge kids to "ask your mommy how many dead animals she killed to make her fur clothes.

"And the sooner she stops wearing fur, the sooner the animals will be safe. Until then, keep your doggie or kitty friends away from mommy – she's an animal killer."
This is fucking sick. That's the only word I can think of for it. Isn't there some kind of law against accosting children in public places?
Showing a gory, violent drawing of animal slaughter to children, and lying to them about their mothers having personally killed the animals in their fur coat, and that mommy secretly longs to murder the family pets to make fur coats from their pelts? This is beyond disgusting. I'd punch somebody who tried to give something like that to my child.
And what about leather? This article mentions only fur, but leather comes from slaughtered animals, too. There's a good chance that almost everyone attending that ballet has something on them made of leather; shoes, purse, coat, etc. Why not target them at the same time, and including a nice, juicy drawing of mommy skinning a dead cow?
Why are strangers allowed to bother children like this? Isn't this illegal? Using kids as pawns in the ideological wars between adults is cowardly and only highlights the lack of a persuasive argument on PETA's part. Yes, PETA, we get it. We understand you don't like people wearing fur. We don't care. Get over it.
Update: More discussion of this here.