Posted by:
Anne Haight
in
Uncategorized
Welcome Instapundit readers! Please pull up a chair and make yourself at home. There's lots more in the archives to read.
Many people are familiar by now with the incident in the news where a woman claimed to have found a human finger in her chili at Wendy's. This incident took place in my home town of San Jose, California, and the San Jose Police arrested the woman in question (Anna Ayala) last week for perpetrating a hoax. She has been charged with attempted grand theft for the enormous financial loss that Wendy's has suffered as a result of this hoax and its publicity.
The location where this took place has suffered tremendously, to the point that they had to cut back hours for their employees. To draw back customers, all the Wendy's locations in the Bay Area were giving away free Frosties this past weekend. Kyle and I are so enraged by this fraud that we decided to eat at Wendy's yesterday to show our support for the company.
As it happens, the Wendy's closest to us geographically is THE very restaurant where this finger incident took place. What better place to go to show our support? I decided to log our lunch adventure.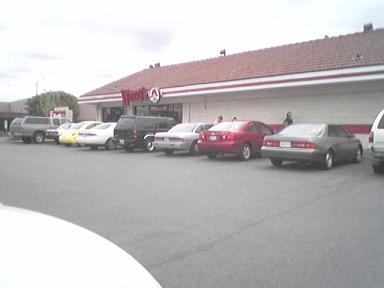 The Wendy's in question on Monterey in San Jose. Hmm, doesn't look like business is too bad today.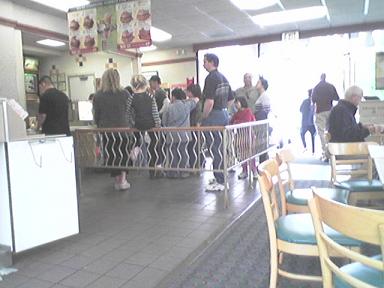 Things are looking good on the inside, too. The dining room was full.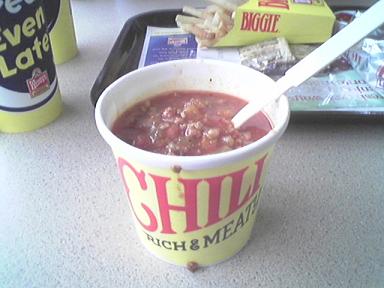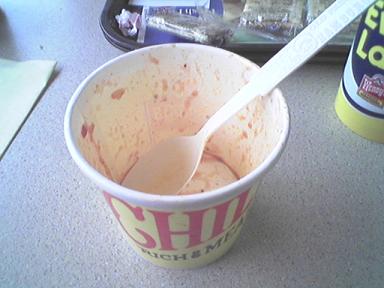 No free Frosties for us, but I did decide to have chili, just for principle's sake. It was very tasty. No human body parts detected.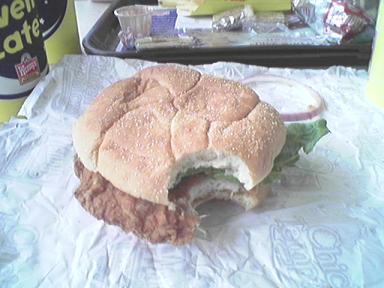 The chicken sandwich is very good, too. Crispy whole chicken breast. Mmm.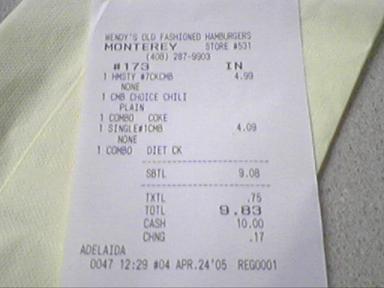 Our receipt, just to prove we went to the Monterey Wendy's. Our lovely cashier was Adelaida, who seemed very bemused by my picture-taking.
All in all a nice lunch. The menu is quite large now, and includes lots of chicken options as well as burgers. Baked potatoes and salads are still a staple, along with the chili and Frosties. I'll have to go back again soon. I forgot how much I like it.
Addendum: A couple of comments raised the question of where the finger came from, and a brief report in the news recently about someone who lost a finger and had come forward for DNA testing.
60 miles away from Las Vegas lives a woman named Sandy Allman. She had a pet leopard which bit off part of her finger on Feb 23. Doctors were not able to reattach it, but the finger itself went missing from the hospital and was not recovered. Allman has come forward and volunteered for DNA testing to see if it is her finger that wound up in the Chili.
Authorities are dubious of a connection between these two incidents. It also seems a bit of a reach to me. But if police could place Ayala in that same hospital at the time Allman was there, it is possible that somehow Ayala discovered and stole the detached finger, perhaps from an unattended room or something like that.
Again, one has to question the motive. Would Ayala have seen the finger and thought, "Hmm, I bet I could defraud someone with this." Or perhaps it was already on her mind to engage in some kind of restaurant contamination fraud and the opportunity presented itself.
I have not seen any further news on Sandy Allman. Wendy's has doubled their reward to $100,000 for information leading to the positive ID of the finger's origin.